Huge Holi fun for all
16th March 2017
Hindu festival + science week = A learning experience like no other for children at Fisherfield Childcare's Redvales and Gables Nurseries.  As the Hindu festival of Holi, a celebration of love and colour, fell during Science Week, staff at Redvales and Gables decided to combine the two with a special colour-themed day.
In the baby room, the children made coloured gloop. However, as Holi is a Hindu festival they added curry powder, so the gloop wasn't just colourful, it smelled amazing too!
Other fun science experiments included making a rocket – by putting sweets into a bottle of fizzy pop.
"The highlight for me has been seeing all the children's faces when we made the rocket. There is always a part of you when you think maybe it won't work, but the children laughed and cheered with delight when the foam started to ooze out and when it shot into the air, they were just besides themselves!"
The children had had a great time, as they have explored colours, mixing colours and experimenting."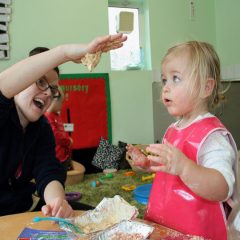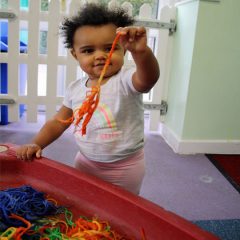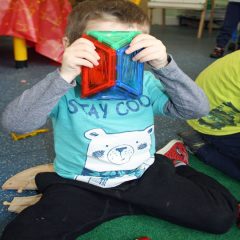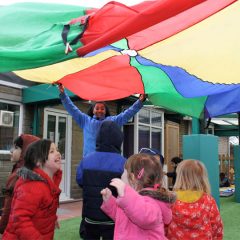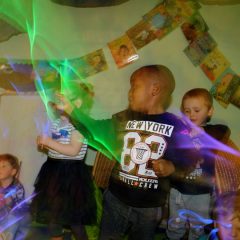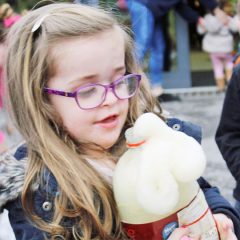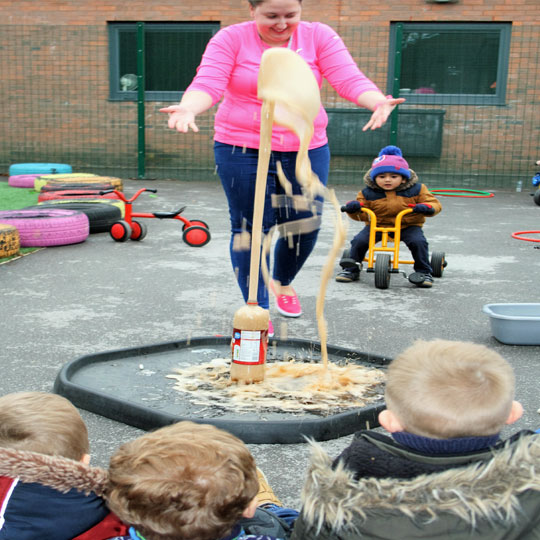 Fisherfield Childcare celebrates World Book Day in style
2nd March 2017
There were Gruffalos, caterpillars, bears, aliens and all sorts of characters, as Fisherfield Childcare celebrated World Book Day.  All 7 Fisherfield nurseries, across Rochdale and Bury, took part in World Book Day. The children are being encouraged to come into Nursery dressed as their favourite character from a book. They enjoyed all manner of activities based around some of their favourite books. Children at one nursery even prepared for the day by eating the same things as those eaten by The Very Hungry Caterpillar.
All the children and staff have loved getting dressed up for World Book Day. The Little Lambs wanted to take their nursery rhyme time a little further and re-enacted Humpty Dumpty and even crack some egg props ….. but couldn't fix him back together again.  It was a really fun day for all!