Leadership Team
Our leadership team is dedicated to providing the best in childcare and early learning experiences for all our children.
Since its establishment in 1996, Fisherfield Childcare has grown to become a leading childcare provider, thanks to the dedication and hard work of its founders, Nicky and David MacGill. As parents to three sons, they understood the importance of nurturing and providing quality care for children during their crucial early years.
Nicky's extensive practical experience and her degree in Early Years education laid a solid foundation for the nurseries approach to child development and care. Her genuine passion for working with children, combined with David's background as a skilled business manager, brought a perfect balance of expertise to the venture.
Over the years, Fisherfield Childcare has thrived, attracting devoted and talented staff who shared the founders' vision. The MacGills' investment in these incredible individuals has been key to the nurseries ability to provide exceptional care and give children the best possible start in life.
In 2022, a significant milestone marked a new chapter in Fisherfield Childcare's history. As the founders took a step back in the day to day running of the business, their eldest son Peter MacGill assumed the role of CEO, continuing the family legacy with immense pride and dedication. Peter grew up witnessing the genuine love and commitment his parents poured into the business, inspiring him to follow in their footsteps. Under Peter's guidance, Fisherfield Childcare continues to maintain its reputation for excellence.

Nicky MacGill – Founder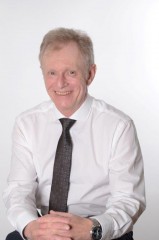 David MacGill – Founder
Management Team

Peter MacGill – CEO

Nadia Salim – Operations Director

Catherine Whitham – Derby Street Nursery Manager

Lilian Ngeleka – Edinburgh Way Day Nursery Manager

Cherine Rasul – The Gables Nursery Manger

Sophie Thomas – Zen Nursery Manager

Karen Corcoran – Bury College Nursery Manager

Kim Sharples – Dorset Drive Nursery Manager

Shamoona Yousuf – The School House Nursery Manager
In Fisherfield Childcare, all of our staff are leaders:
supporting children in developing their own individuality
supporting each other in our work
always learning and never blaming
always pushing ourselves to be better
"The professional development of staff is given a very high priority within the setting. All staff have participated in a range of high-quality training, covering all areas of early years practice. This helps them to provide an environment of care and learning of the highest calibre." Ofsted Report, The School House
"Children benefit from a stimulating and welcoming environment which offers a wide range of interesting activities." Ofsted Report, Dorset Drive
"Staff have a secure knowledge of children's individual needs & children have formed strong attachments to staff members." Ofsted Report, Sandbrook Park
---