Hopwood Hall Students meet prospective employer Fisherfield Childcare at Apprenticeship Week Jobs Fair
16th March 2017
Hopwood Hall College annual Apprenticeship Fair played host to some employers  including local based nursery chain, Fisherfield Childcare. The Apprenticeship Fair was a chance for local employers to meet students and make them aware of any vacancies or opportunities that are available.
Fisherfield Childcare operates seven nurseries across Rochdale, Middleton and Bury, and most recently they have added a soft play party centre, Running Wild.
Shareen, Level 3 Childcare practitioner, said: "Studying at College was good and the apprenticeship gave me the chance to learn on the job and apply my skills.  It was worthwhile and now I am a qualified Nursery Practitioner. Fisherfield Childcare has made me feel very welcome, and I love seeing the children. I like getting involved in real jobs and helping each child to meet their needs; I know, I am making a difference." Shareen Afzal is the latest in a long line of apprentices and trainees who have been given a helping hand onto the career ladder by Fisherfield Childcare."
Vacancies, for apprentices as well as qualified staff, are advertised on the Fisherfield Childcare website.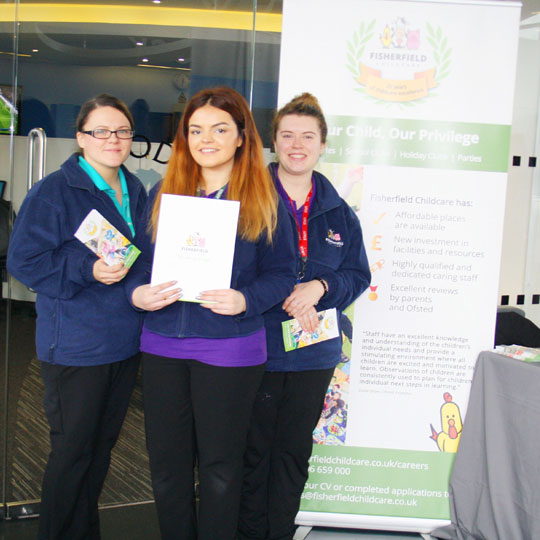 Only a few more days to February half term Holiday Club
17th February 2017
Some photos from the last holiday club – 'Our Little Angels'
The club runs from Monday to Friday, 20-24 February, from 8am to 6pm. It is open to all children aged between 4 -9 years, regardless of whether or not they attend Fisherfield's term-time clubs or nurseries. We can offer everything from Single Half-Days to a Full Week of Full-Time care.
The staff are all highly trained and passionate about caring for children and the Club has been rated as 'Outstanding' by Ofsted.
Full-day sessions (8am-6pm) are £25.75 and half-days (8am-1pm or 1-6pm) are £16.50, but full-week and sibling discounts are available.
More information click here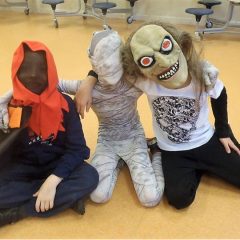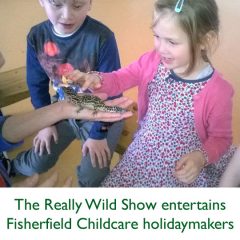 The Farmers Children at The Gables recycled all manner of waste materials into fashion items as part of the Bagslate Moor Road nursery's "Go Green Week", then they took to the 'catwalk' to show off their creations in a fashion show.  It was just one way in which the Farmers were encouraged to think about how items can be reused and recycled.The children dressed in outfits and accessories were made from anything from black-and-white newspaper to red plastic tubs but they had one thing in common – they were all 'green'.
The babies, on the other hand, got really into recycling – quite literally. The grey tent was made into a 'recycling centre', filled with newspaper, tin foil and boxes for them to explore: a whole new way of getting close to your subject! Go Green Week was celebrated throughout the entire nursery, with a host of 'Green-related' activities and craft sessions. Becki, nursery practitioner said: "The week has been really popular with the children; they have loved it."