Fisherfield Gong Bath on International Mental Health Day
17th October 2019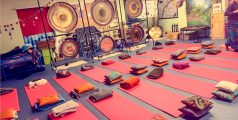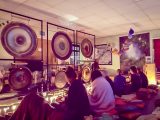 To enhance the well-being of our Fisherfield staff, we hosted a Gong Bath on International Mental Health Day. A Gong Bath involves getting cosy on a mat, with a blanket and pillows and relaxing to the healing vibrational energy of specially designed gongs. Martin from Gong Spa Manchester has 25 years' musical experience and has hosted over 10,000 gong baths! The team found the experience calming and re-energising.
Fisherfield Childcare deeply values the well-being of all staff in the Company. To further promote this a Well-Being Centre will open this month. This will host regular free of charge events to support staff, their health and well-being.
As a result of the positive feedback future events include Crystal Sound Bowl baths, yoga classes, nutritional workshops and much more.